Graffi-Tea
Ingredients: kava kava root*, chamomile flowers, orange peel, passionflower herb, lavender leaf, rose petals, lemon balm leaf, butterfly pea flowers, cornflowers
* Do not mix with alcohol or medications affecting your liver
Good for: Relaxation, socializing, anxiety, and sleep
Tastes like: A festival of flowers; earthy and comforting
Makes you feel like: An inspired & peaceful person
Art by: Mike the Tea Guy
50 grams / 36 servings (1.5 tsp per 8 oz water)
Graffi-Tea is a rainbow of herbs. With its full-spectrum of colors, this is a demo worthy example of the beauty of loose leaf tea. After all, it's the herbal version of "eating the rainbow," a theory suggesting eating fruits and veggies of all colors will provide you with all the vitamins and minerals you need. I wanted to test that theory out with herbs, but with a street art spin.

We start with kava kava to loosen the artist up. Next, we add a couple "feel gooders" - passionflower and lemon balm – because good art takes time and you should feel good doing it! Calming as well, we add chamomile, lavender, and rose petals to create a soft, floral taste. We still need to finish the color wheel, so the unique and beautiful blue cornflower is added along with orange peel to give it an artistic touch. Lastly, a little bit of butterfly pea flower (a Thai herb that acts as a natural food color agent) is sprinkled in to give the infusion an interesting color... Have fun crafting!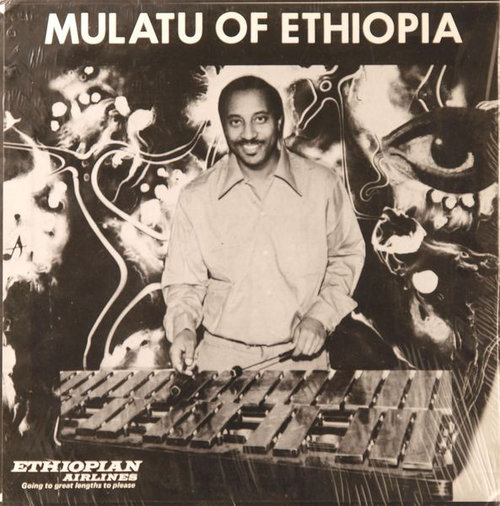 Vinyl Pairing: Mulatu Astatke – Mulatu of Ethiopia (1972)
Featured heavily in Jim Jarmusch's "Broken Flowers," Mulatu Astatke is the face of Ethiopian Jazz. Make this a top priority if you're looking for lounge funk. Mulatu's vibes and slinky organ transport you to the basement of a swanky '70s Ethiopian jazz club.
Further Listening: Mulatu Astatke & The Heliocentrics ‎– Inspiration Information (2009); William Onyeabor ‎– Who Is William Onyeabor? (2013)